Lessons
Plano Lesson Studio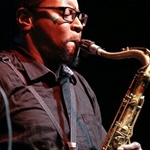 Saxophone - Flute
Saxophonist, Shelley Carrol hails from family of gospel singers and musicians in Houston, Texas. It was there that the music bug bit him at an early age and landed him in the famed Boys Choir of Houston. After picking up the saxophone, he was able to study with the legendary Texas Tenor greats Arnett Cobb and Don Wilkerson. At the time he didn't know how revered these gentlemen were around the globe. They simply lived in his neighborhood. Shelley attended the city's High School for the Performing and Visual Arts and was a standout in the city's Summer Jazz Workshop Program. This is where he developed a true flair for the stage. While attending the University of North Texas, Shelley earned a spot in the Grammy Nominated One O'clock Lab Band. There he recorded two critically acclaimed CD's in 1990 and 91. During the same period, Mr. Carrol was invited to join the Duke Ellington Orchestra by trumpeter Barry Lee Hall. This would prove to be an enormous musical opportunity with worldwide exposure. Since joining the band, he has toured the U.S. and over 30 foreign countries. He has also recorded and/ or performed with Sheryl Crow, Whitney Houston, Roger Waters, Marla Gibbs, Maureen McGovern, Marchel Ivery, Kirk Whalum, Tony Bennet, Roy Hargrove, Fingerprints, Phyllis Hyman, Nancy Wilson, Joe Williams and a host of others.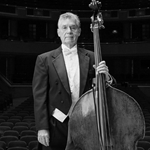 Double Bass
Roger Fratena has played all around the world in his 47 years with the Dallas Symphony Orchestra. He joined in 1972, the year he graduated from Oberlin College Conservatory of Music with his Bachelor of Music in Double Bass & Music Education, along with his Master of Music Education. Fratena has taught at the University of Texas at Arlington, Texas Tech University and continues to teach at both Eastfield and Richland Colleges in Dallas, Texas. As a composer, his ragtime pieces have been performed by the Dallas Symphony, along with the Pacific Symphony (California) and many others. His students have gone on to be performers and teachers of music themselves, some winning positions in various orchestras around the country, including the Cleveland Orchestra, Alabama Symphony, and the Dallas Symphony.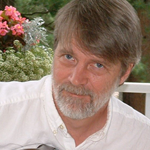 Guitar
Born and raised in North Texas, Larry began writing songs around 6 years old and started piano lessons in 2nd grade. He taught guitar lessons throughout high school and began singing and playing acoustic and electric guitar in local bands around 1978; The Legacy Band, Tacky Cactus, Montana Moon, Little Sparrow and others (Country, rock, jazz, blues and folk). He is a Former President of the Board of Directors for (MISU) The Musical Institute of Sullivan and Ulster Counties in the Catskill Mountains of upstate New York - performing orchestral concerts throughout the region.
Southlake Lesson Studio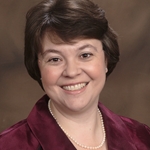 Voice - Music Theory - Beginner Piano
Suré Eloff began her vocal studies in Cape Town, South Africa with renowned master teacher Marita Napier. In the United States, she received a Graduate Diploma in vocal performance from the University of Texas at Arlington, followed by a Fellowship Diploma in Singing from Trinity College London.
Ms. Eloff has been teaching in the Metroplex since 2004. In addition to Voice, she also teaches Music Theory and Piano, and serves as the Representative for Trinity College London in North Texas and Central Oklahoma. Her studio provides private study to hardworking and dedicated students who wish to develop a well-rounded classical technique following the Trinity College London Theory, Aural Skills and Practical (voice and piano) syllabi.
Students from the studio have been selected to the Dallas Opera Scholars program and have auditioned successfully for the Childrens and Youth Chorus of Greater Dallas. High school singers have completed summer programs at Rice University and Oklahoma City University and since 2012, singers have successfully completed coursework at summer study-abroad programs in the United Kingdom. The studio offers extensive college preparation for students interested in pursuing careers in music. Students have successfully auditioned at Cincinatti Conservatory of Music (OH), Berklee College of Music (MA), Belmont University (TN), AMDA (New York, NY and Los Angeles, CA) as well as Texas Christian University, Texas Wesleyan University, The University of Texas at Arlington and the University of Oklahoma.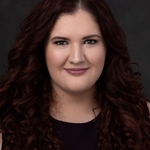 Voice
Jayme Vaughn-Linebarger, a Fort Worth native, holds a Bachelor of Music degree from Texas Tech University. She also holds an Associates Diploma in Singing (ATCL) from Trinity College London.
While attending Texas Tech, Jayme served as a teaching assistant and maintained a studio of vocal performance majors, theater majors, and music enthusiasts. Aster returning to the Metroplex, she built a voice studio while performing throughout Chicago Summer Opera and Astoria, Oregon with the Astoria Music Festival.
Honors her students have received, include leads in musicals such as Frozen Jr. and Bloody, Bloody Andre Jackson, acceptance into the Southwestern American Choral Directors Association (SWACDA) 5th/6th grade honor choir, and top placements in their choral or theater program. Outside of teaching and performing, Jayme enjoys spending time with her spouse, cats and dogs, all of whom patiently deal with her musical practicing and baking experiments at home.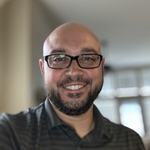 Trombone - Euphonium - Tuba
Michael McKnight holds a Bachelor of Music Degree in Euphonium Performance from Hardin-Simmons University in Abilene, TX and a Master of Arts degree in Music Theory from the University of North Texas in Denton, TX. He has been teaching private lessons in DFW since 2004. In addition to maintaining a private studio of 60-70 students per week, Mr. McKnight teaches low brass masterclasses, brass sectionals, judges All-Region auditions, judges solo and ensemble contests, and performs on euphonium, trombone, tuba, and bass guitar all over the DFW metroplex. Saxophone - Clarinet - Music Theory and Sight Reading
Mark Dooly designed and developed the T4 Music Mentor program in order to leverage his and every other music educators teaching abilities. Dooly understands that teaching is not an overnight sensation but born out of step-by-step repetition that gets burned into the students mind. T4 Music Mentor provides the details so that students see the same message and techniques at home that they see in the classroom or private lesson. Mark Dooly is an accomplished private lesson teacher, having worked with up to 100 private lesson students each week for the last 25 years. Dooly began his teaching career after graduating from the Universtiy of North Texas with a degree in Music Theory and Jazz Studies, the technical knowledge that students need to thrive. Dooly also understands that the students desire to learn music is enhanced if the teacher provides the right conceptual framework. Dooly teaches music as a language. Students learn to recognize patterns and phrases so they can confidently apply their technique. Just as important, Dooly understands that all successful musicians have a mentor, someone showing them simply how to hold and play the instrument, to learning how to hold a music conversation Trumpet
Vernon Richter has been playing trumpet since 1977 and enjoys a studio of more than 70 students including schools in Lewisville ISD, Argyle ISD, Coppell ISD and Grapevine/Colleyville ISD. Mr. Richter's passion is his teaching. He has had countless students at the middle school level achieve region status including multiple 1st chair placements. He has produced 16 students that have achieved Texas All-State status over the past 9 years, and more specifically 11 Texas All-State students in the past four years. Mr. Richter has also developed multiple Greater Dallas Youth Orchestra members. He has produced Semi-Finalist and Finalist in the National Trumpet Competition in Fairfax, Virginia in 2012 and 2013. Mr. Richter has also developed a student that has recently been accepted to the Interlochen Arts High School Academy. Mr. Richter has adjudicated region auditions at the middle and high school level. Mr. Richter emphasizes positive reinforcement in his lessons, focusing on building the self-confidence of the student. Mr. Richter incorporates the teaching and philosophy of Master Trumpet Teacher James Stamp into his lessons.

Mr. Richter has performed with the East Texas Symphony, Richardson Symphony and Lewisville Lake Symphony. He is a contract musician with Trietsch Memorial United Methodist Church Orchestra in Flower Mound Flute
Christine Cleary has been teaching private flute lessons in Texas since 1997. She has a bachelor's degree and a master's degree in flute performance from Kent State University and Ohio University. She is a past president of the Texas Flute Society and was the Flute clubs coordinator for the National Flute Association for five years. Christine is married to saxophone teacher, Mark Dooly, and they have two children and two little dogs. In her spare time she enjoys Yoga and running marathons.